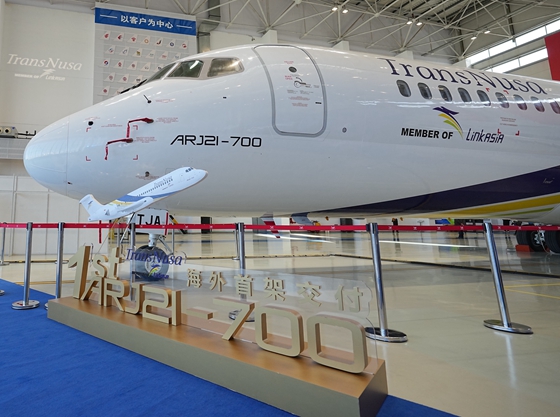 The regional jet ARJ21 independently developed by China and owning complete independent intellectual property right was officially delivered to its first overseas customer TransNusa on December 18th, 2022. This is the first time for China's jet to enter the overseas market, which is of great significance for the construction of "The Belt and Road Initiative" and the building of the new development pattern of "dual-cycle".

The ARJ21 aircraft delivered to TransNusa is in all economy-class cabin configuration with seats for 95 passengers. The cabin interior, passenger seats and exterior painting are all custom-designed, and the passenger seats are made of full leather seat fabric. The fuselage is printed with a national flag of Indonesia, and the exterior painting is designed based on the hues of the logo of TransNusa, with blue for the sky, yellow for people, green for the earth.

Indonesia, as the largest economy in the Association of Southeast Asian Nations (ASEAN), is one of the world's fast-growing civil aviation markets. Indonesia has many islands, and is suitable for the operation of regional jets. Founded in 2005 and headquartered in Jakarta, the capital of Indonesia, TransNusa is a low-cost airline, mainly operating domestic and foreign routes between Indonesia and the surrounding regions. Through efficient management and advanced operation system, TransNusa provides passengers with safe and comfortable flight services.

ARJ21 aircraft is a short-medium range turbofan regional aircraft with a range of 2,225-3,700 km, and is mainly used for meeting the operating requirements of radial routes from central cities to surrounding middle and small cities. The aircraft has excellent performance in high temperature conditions, crosswind capability and night operability. Up to now, nearly one hundred ARJ21 aircraft have been delivered for operation, successively operated in more than 300 routes in more than 100 cities, and carried more than 5.6 million passengers. The safety and reliability of the aircraft have been verified.

In recent years, Commercial Aircraft Corporation of China, Ltd. (COMAC) has been actively preparing its aircraft for going overseas, closely centered on "The Belt and Road Initiative" to develop overseas markets, and made pioneering and innovative explorations and practices with respect to market cooperation, airworthiness certification, customer training and material support to make the conditions for ARJ21 aircraft to go overseas mature continuously. COMAC will insist on the principle of being customer centered, provide life cycle customer service and operation support to TransNusa, and make every effort to ensure the safe and smooth operation of ARJ21 aircraft overseas. While creating values for customers, COMAC will strive to integrate into the global civil aviation market, adapt to the global operational philosophy, management system and operating environment, and accelerate the construction of a world-class aviation enterprise.