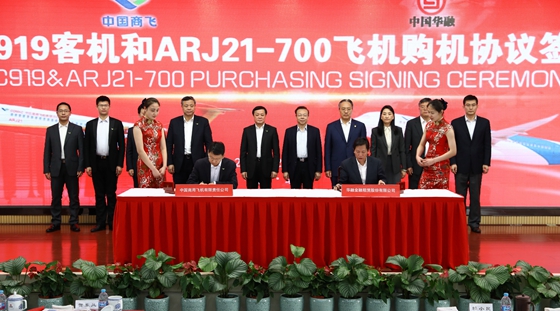 Site of signing ceremony.
Commercial Aircraft Corporation of China, Ltd. (COMAC) signed a Purchase Agreement of 30 C919 aircraft and 20 ARJ21 aircraft with China Huarong Financial Leasing Co., Ltd. in Beijing on February 26th, 2018. Thus, COMAC had 28 domestic and foreign customers of C919 aircraft and 21 customers of ARJ21 aircraft, and secured a total of 815 C919 orders and a total of 453 ARJ21 orders.

Mr. He Dongfeng, Chairman of COMAC, and Mr. Lai Xiaomin, Chairman of China Huarong Asset Management Co., Ltd., attended the signing ceremony. Mr. Li Peng, Chairman of China Huarong Financial Leasing, and Mr. Cheng Fubo, Vice President of COMAC, placed their signature on the agreement.

China Huarong expressed that developing trunk liner was not only an important part of the China Dream, but also an important measure to meet the rapidly growing demand for civil air transport in China and abroad. China Huarong Financial Leasing had been interested in the development of C919 and ARJ21 programs, would support the development of the China-made civil aircraft as always, and would accelerate the development of China's aviation manufacturing and transportation industry.

COMAC expressed that since the implementation of C919 and ARJ21 programs, it had received the trust and support of domestic and foreign institutions and users, such as China Huarong Financial Leasing. COMAC would value the trust and support, insist on "Safety First, Customer Oriented", understand customers' demand precisely, meet customers' demand in time, develop the aircraft completely in accordance with international airworthiness standards, exert its efforts to provide safe, reliable and trustworthy products and services for customers and passengers, and create value for customers.

China Huarong Financial Leasing Co., Ltd. is a financial institution approved by China Banking Regulatory Commission to run financial leasing business. It is one of the first financial leasing companies in China. It was acquired by China Huarong Asset Management Co., Ltd., the biggest state-owned financial company, in 2006. It is based in Hangzhou, and mainly provides customized financial solutions through equipment-based financial leasing business. Its main business includes sale and leaseback, direct lease and operating lease.