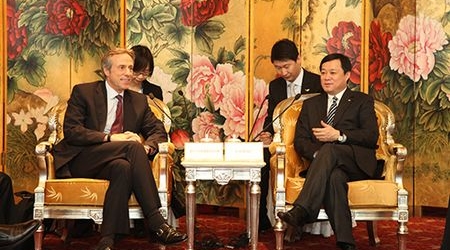 Mr. He Dongfeng (R1), President of Commercial Aircraft Corporation of China, Ltd. (COMAC), met with Mr. Guy Hachey (L1), President and Chief Operation Officer (COO) of Bombardier Aerospace and his delegation on February 25th, 2014. Both sides developed in-depth exchanges. Mr. Wu Guanghui, Vice President of COMAC and Chief Designer of C919 Aircraft, and Mr. Mike Arcamone, President of Bombardier Commercial Aircraft, attended the meeting.

Mr. He Dongfeng pointed out that both sides has established a long-acting mechanism for exchanges and communication through the establishment and effective operation of the Cooperation Promotion Committee, and made great achievements in various cooperative programs through joint efforts. He hoped that both sides could further deepen cooperation, jointly promote the progress of programs, and make new contributions to the development of global civil aircraft industry.

Mr. Guy Hachey expressed that Bombardier Aerospace would actively promote the long-term friendship and cooperation with COMAC, and hoped that both sides could further strengthen exchanges and bring cooperation into wider areas.

COMAC/BA Cooperation Promotion Committee (CPC) was established on November 13th, 2012, dedicating to promoting cooperation in C919 and C Series commonality, market and marketing cooperation, united increase of customer service capability, and training of flight test engineers.