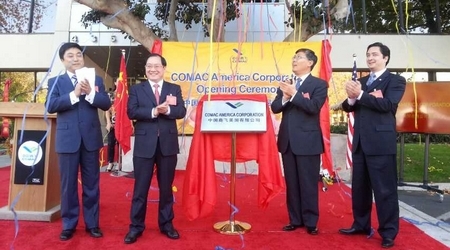 Commercial Aircraft of China (COMAC) opens its first overseas subsidiary, COMAC America Corporation, on 23rd November in the city of Newport Beach, South California. Mr. Liu Jian, the Chinese Counsul General in Los Angeles, Mr. Jin Zhuanglong, chairman of COMAC jointly unveiled the new company jointly.

As the first wholly-owned overseas subsidiary of COMAC, it is launched with a clear operating principle of "globalized management, localized talent". In North America, the company is to recruit aerospace specialists, to provide services in engineering technology and management consultancy in civil aviation industry. In the meantime, COMAC America will develop business in airworthiness certification, supplier management, marketing, customer service and staff training, etc.

In his speech, Mr. Jin Zhuanglong notes said that COMAC has actively established collaboration with various enterprises, organizations from different countries and regions, which turned out to be significant. Founding of the subsidiary corporation in North America is aimed to further COMAC's relationship with local civil aviation authorities, aerospace companies and academic institutions, mainly in areas such as airworthiness certification, civil aircraft development and educational training. In a long term, it helps to build up COMAC's core capabilities and globalization blueprint.

Mr. Jeff Malin, senior business development specialist at California Governor's Office, John M.W. Moorlach, supervisor of Orange County, Travis Allen, assemblyman of California State Assembly, Keith Curry, mayor of Newport Beach, Mr. Liu Haiyan, counselor for commercial affairs from Consulate General of China in Los Angeles, representatives from local Chinese enterprises and Chinese community attended the opening ceremony.